poverty
Submitted by
stevein7
on Mon, 2008-03-03 09:30
The Government is set to miss its target of halving the number of children living in poverty by around one million, MPs have warned.
The Commons Work and Pensions Committee said that it was still possible to turn the situation around before the target date of 2010 - but only if ministers were prepared to make more resources available.
The target to halve child poverty - with a view to eradicating it completely by 2020 - was first announced by then prime minister Tony Blair in 1999, when the number of children living in poverty stood at 3.4 million.
Since then the number has fallen by 600,000 to 2.8 million - still well short of the goal of 1.7 million.
On current trends, the committee said that the Government will miss the target by about 1 million - or 1.5 million if housing costs are taken into account.
The committee pointed to the way some groups of children had a much higher risk of growing up in poverty, such as those who were disabled or had a disabled parent.
It said that it was "particularly concerned" that one-in-five families with a disabled child were so hard up they had to cut back on food.
Poverty rates among Pakistani and Bangladeshi children were twice those among white children, while black children also experienced higher rates of poverty than whites. The rates were also particularly high in London.
The committee endorsed the Government's strategy of lifting families out of poverty by helping parents find "sustainable" work. However it expressed concern that the Jobseekers Allowance regime was too inflexible to cope with the "complexity" of many lone parents lives, particularly those with disabled children.
Work and Pensions Secretary James Purnell said that the Government had made significant progress but acknowledged that more needed to be done.
In evidence
The Communist Workers' Organisation is (unsurprisingly!) a not-for-profit organisation. We have no so-called "professional revolutionaries", nor paid officials. Our sole funding comes from the subscriptions and donations of members and supporters. Anyone wishing to donate (to "Prometheus Publications") can now do so safely using the Paypal button below.
Subscriptions to Revolutionary Perspectives (3 issues) and Aurora (at least 4 issues) are:
UK £15 (€18)
Europe £20 (€24)
World £25 (€30, $30)
Take out a supporter's sub by adding £10 (€12) to each sum. This will give you priority mailings of Aurora and other free pamphlets as they are produced.
Publications. CWO publications are not copy-righted and we only ask that those who reproduce them acknowledge the original source on our website www.leftcom.org. Purchasing any of the publications listed on this site or in our various documents can be done in several ways:
By emailing us at uk@leftcom.org and asking for our banking details
By writing a cheque to the "CWO" and sending it to BM CWO, London WC1N 3XX
By donating the cost of the publications required via Paypal using the "Donate" button
The book "Bordiga Beyond the Myth" by Onorato Damen can also be ordered via Amazon
Adverts
Open Meeting
Universal Basic Income: step forward for low paid workers or "bread and circuses" for the plebs?
There is much talk on both left and right of the capitalist political spectrum around the idea of a Universal Basic Income. There are even some pilot projects already operating or planned to be operating soon. Its supporters though have conflicting motives. The right wing economist F. A. Hayek, who thought the welfare state was the "road to serfdom" was a great supporter but only because he thought that a universal basic income would lead to private companies offering all "services" . We would all have to pay private health providers for our care. On the left there are those who see it as a basic welfare payment that can replace the horrors of Universal Credit. And still others see it as a strategy for reducing the entire working class to dependency on a state in an age when employment opportunities are declining. This is a discussion about all our futures.
The meeting will be on
Monday 22 January at 7.30 in Alington House, 4 North Bailey, Durham DH1 3ET.
All those interested in the development of a revolutionary movement of the international working class welcome.
Bordiga Beyond the Myth by Onorato Damen is now available in English translation (it already exists in Italian, French and Spanish). It contains 168 pages and includes 114 footnotes to guide English readers plus 4 appendices, one of which is the first full translation in English of Bordiga's famous letter to Karl Korsch. The price of £7.25 includes postage and packaging in the UK.
The next Midlands Discussion Forum will be on the subject:
''Crypto-currencies, high-tech cure all or pseudo solution to capitalism's quagmire''
It will be upstairs at 'The Rutland Arms' pub, 86 Brown Street, Sheffield, S12BS, from 2-6pm, on Saturday the 27th January, just a short walk from Sheffield central railway and bus stations. This meeting follows on from an earlier one on broader issues around automation.
All welcome.
This earlier analysis of Bitcoin is a good place to start:
libcom.org but digital 'currencies' have proliferated since then and our discussion will expand to look more widely at the relationship between this and the 'real' economy of a crisis ridden capitalism.
Recent publications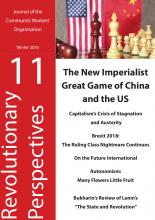 Journal of the Communist Workers' Organisation -- Why not subscribe to get the articles whilst they are still current and help the struggle for a society free from exploitation, war and misery? Joint subscriptions to Revolutionary Perspectives (3 issues) and Aurora (our agitational bulletin - 4 issues) are £15 in the UK, €24 in Europe and $30 in the rest of the World.

This work is licensed under a Creative Commons Attribution 3.0 Unported License.