No transitional period
Submitted by
stevein7
on Mon, 2018-01-29 13:35
Now all of reality is a process of becoming. there is no static reality, no static society. But the problem I am attempting to clarify is the idea of a transitional period between capitalism and socialism. Conceived in these terms, the transitional period is not socialism.
Thus it could be a lengthy period where socialist and capitalist sectors coexist. A process during which
The proletariat will use its political supremacy to wrest, by degree, all capital from the bourgeoisie, to centralise all instruments of production in the hands of the State, i.e., of the proletariat organised as the ruling class; and to increase the total productive forces as rapidly as possible.
But I think an alternative perspective is the case. The working class will in one fell swoop take over all the instruments of production and use them to meet basic needs. This will be a sharp rupture, likely a messy period of experiments and a steep learning curve that cannot be planned beforehand. It will be immediately communist. From day 1. The whole thing will depend on a revolutionary mindset, without which there will be no revolutionary rupture. Self serving accountants eager to maximise individual consumption and get their "money's worth" or, to get the correct reward for their labour time, will not make a revolution. They have not stopped thinking in capitalist terms. It would almost like going to war and saying well, I have shot 3 of the enemy, I have done my bit, I am off home now.
No, this is a different thing altogether, there will be no gradual wresting by degree, unless that refers to the extension of the revolution globally, which will have to be speedy if we are to survive the trauma. Any revolutionary bastion will immediately have to reinvent life with the tools to hand. Only a reapidly growing, sizeable bastion will be able to maintain the revolutionary flame which otherwiase will breakdown into a war of all against all, a disorder to be put down by capitalist intervention.
No, inflamed by revolutionary zeal, we leave behind the selfish fleas and cripples which capitalism produces and we have a collective vision of society.
We cannot individually work out what our individual efforts are worth. So one goes to work for four hours in a school, and another lugs breezeblocks around on a building site for four hours, whilst another trundles around in a fork lift...how long before the penny drops thgat there is no real measuring exact individual input, everything is determined by situation, chance and the like? Average social labour time is a capitalist invention, we cannot use it to make individual calculation of input and reward.
Either the working class recognises that egotistical calculation offers no future, or it embraces socialism as a collective endeavour from the outset.
Transition - well, the communism of day 1 will not be the same as the communism decades later, but that will always be true as long as communism exists, it will all be a transition. But a transition to communism, that is a differnet matter. It will not be a gradual affair with special rules, it will be a messy learning curve.
In evidence
The Communist Workers' Organisation is (unsurprisingly!) a not-for-profit organisation. We have no so-called "professional revolutionaries", nor paid officials. Our sole funding comes from the subscriptions and donations of members and supporters. Anyone wishing to donate (to "Prometheus Publications") can now do so safely using the Paypal button below.
Subscriptions to Revolutionary Perspectives (3 issues) and Aurora (at least 4 issues) are:
UK £15 (€18)
Europe £20 (€24)
World £25 (€30, $30)
Take out a supporter's sub by adding £10 (€12) to each sum. This will give you priority mailings of Aurora and other free pamphlets as they are produced.
Publications. CWO publications are not copy-righted and we only ask that those who reproduce them acknowledge the original source on our website www.leftcom.org. Purchasing any of the publications listed on this site or in our various documents can be done in several ways:
By emailing us at uk@leftcom.org and asking for our banking details
By writing a cheque to the "CWO" and sending it to BM CWO, London WC1N 3XX
By donating the cost of the publications required via Paypal using the "Donate" button
The book "Bordiga Beyond the Myth" by Onorato Damen can also be ordered via Amazon
Adverts
Open Meeting
Universal Basic Income: step forward for low paid workers or "bread and circuses" for the plebs?
There is much talk on both left and right of the capitalist political spectrum around the idea of a Universal Basic Income. There are even some pilot projects already operating or planned to be operating soon. Its supporters though have conflicting motives. The right wing economist F. A. Hayek, who thought the welfare state was the "road to serfdom" was a great supporter but only because he thought that a universal basic income would lead to private companies offering all "services" . We would all have to pay private health providers for our care. On the left there are those who see it as a basic welfare payment that can replace the horrors of Universal Credit. And still others see it as a strategy for reducing the entire working class to dependency on a state in an age when employment opportunities are declining. This is a discussion about all our futures.
The meeting will be on
Monday 22 January at 7.30 in Alington House, 4 North Bailey, Durham DH1 3ET.
All those interested in the development of a revolutionary movement of the international working class welcome.
Bordiga Beyond the Myth by Onorato Damen is now available in English translation (it already exists in Italian, French and Spanish). It contains 168 pages and includes 114 footnotes to guide English readers plus 4 appendices, one of which is the first full translation in English of Bordiga's famous letter to Karl Korsch. The price of £7.25 includes postage and packaging in the UK.
The next Midlands Discussion Forum will be on the subject:
''Crypto-currencies, high-tech cure all or pseudo solution to capitalism's quagmire''
It will be upstairs at 'The Rutland Arms' pub, 86 Brown Street, Sheffield, S12BS, from 2-6pm, on Saturday the 27th January, just a short walk from Sheffield central railway and bus stations. This meeting follows on from an earlier one on broader issues around automation.
All welcome.
This earlier analysis of Bitcoin is a good place to start:
libcom.org but digital 'currencies' have proliferated since then and our discussion will expand to look more widely at the relationship between this and the 'real' economy of a crisis ridden capitalism.
Recent publications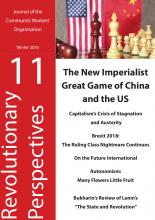 Journal of the Communist Workers' Organisation -- Why not subscribe to get the articles whilst they are still current and help the struggle for a society free from exploitation, war and misery? Joint subscriptions to Revolutionary Perspectives (3 issues) and Aurora (our agitational bulletin - 4 issues) are £15 in the UK, €24 in Europe and $30 in the rest of the World.

This work is licensed under a Creative Commons Attribution 3.0 Unported License.