Recent posts
| Type | Title | User | Replies | Date |
| --- | --- | --- | --- | --- |
| Advert | Sheffield Public Meeting | Cleishbotham (editor) | | Wed, 2018-05-23 11:29 |
| Article | Derrière les Éléphants… La Lutte de Classe! | Cleishbotham (editor) | | Tue, 2018-05-22 13:35 |
| Article | Il Contratto | webmaster | | Mon, 2018-05-21 19:35 |
| Article | I grilli alle cicale: "A noi il governo del Paese!" | webmaster | | Mon, 2018-05-21 19:31 |
| News | Leicester textile workers get as little as £3 an hour | Cleishbotham (editor) | | Mon, 2018-05-21 11:32 |
| Article | Iran: Class War against Imperialist Pretensions | stevein7 | 6 | Sun, 2018-05-20 09:47 |
| Article | What's going on in Argentina? | Cleishbotham (editor) | | Thu, 2018-05-17 12:07 |
| Article | The working class doesn't need borders in Ireland – or anywhere else | stevein7 | 2 | Thu, 2018-05-17 10:05 |
| Article | Protezionismo e "globalizzazione" hanno una stessa madre: la crisi del capitale | webmaster | | Tue, 2018-05-15 20:44 |
| Article | The Horror, the Horror of World Imperialism | Cleishbotham (editor) | | Tue, 2018-05-15 11:13 |
Contact us

In evidence
The Communist Workers' Organisation is (unsurprisingly!) a not-for-profit organisation. We have no so-called "professional revolutionaries", nor paid officials. Our sole funding comes from the subscriptions and donations of members and supporters. Anyone wishing to donate (to "Prometheus Publications") can now do so safely using the Paypal button below.
Subscriptions to Revolutionary Perspectives (3 issues) and Aurora (at least 4 issues) are:
UK £15 (€18)
Europe £20 (€24)
World £25 (€30, $30)
Take out a supporter's sub by adding £10 (€12) to each sum. This will give you priority mailings of Aurora and other free pamphlets as they are produced.
Publications. CWO publications are not copy-righted and we only ask that those who reproduce them acknowledge the original source on our website www.leftcom.org. Purchasing any of the publications listed on this site or in our various documents can be done in several ways:
By emailing us at uk@leftcom.org and asking for our banking details
By writing a cheque to the "CWO" and sending it to BM CWO, London WC1N 3XX
By donating the cost of the publications required via Paypal using the "Donate" button
The book "Bordiga Beyond the Myth" by Onorato Damen can also be ordered via Amazon
Recent publications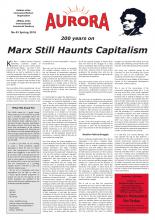 Aurora is the broadsheet of the ICT for the interventions amongst the working class. It is published and distributed in several countries and languages. So far it has been distributed in UK, France, Italy, Canada, USA, Colombia.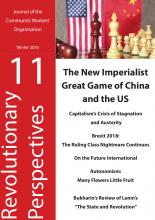 Journal of the Communist Workers' Organisation -- Why not subscribe to get the articles whilst they are still current and help the struggle for a society free from exploitation, war and misery? Joint subscriptions to Revolutionary Perspectives (3 issues) and Aurora (our agitational bulletin - 4 issues) are £15 in the UK, €24 in Europe and $30 in the rest of the World.
Links
Brief news
Leicester textile workers get as little as £3 an hour
Oklahoma and Kentucky Teachers Strikes
Thousands of teachers on strike in both states following the strike in West Virginia
In Kentucky its the pensions issue again but in Oklahoma the continual cuts in the state budget due to tax cuts has forced schools to shut an extra day a week and some schools find they cannot buy textbooks despite sacking teaching assistants and teachers en masse. edition.cnn.com

This work is licensed under a Creative Commons Attribution 3.0 Unported License.