Recent posts
| Type | Title | User | Replies | Date |
| --- | --- | --- | --- | --- |
| Article | Are we now in a period of transition from capitalism to socialism? H. Ticktin's concept of decline and transition | Cleishbotham (editor) | | Fri, 2018-09-21 13:17 |
| Article | US Power and the New Course Towards War | Cleishbotham (editor) | | Mon, 2018-09-17 12:31 |
| Article | کلید دنیای جدید، فقط در دستان طبقه کارگر | damoon (editor) | | Sun, 2018-09-16 22:42 |
| Article | No War But the Class War | Cleishbotham (editor) | 4 | Sun, 2018-09-16 15:57 |
| Publication | Aurora #2018-08-01 | webmaster | | Sat, 2018-09-15 08:30 |
| Article | The Working Class Holds the Key to a New World | stevein7 | 1 | Fri, 2018-09-14 11:07 |
| Article | Syriza 2018: un salto nel passato | webmaster | | Wed, 2018-09-12 23:06 |
| Article | John McCain – War Hero or Racist War Monger? | Meursault | 4 | Wed, 2018-09-12 21:37 |
| Forum topic | Obesity | stevein7 | 6 | Wed, 2018-09-12 12:09 |
| Advert | Manchester Meeting 'Trade Wars to Military Wars' | Cleishbotham (editor) | | Mon, 2018-09-10 18:19 |
Contact us

In evidence
The Communist Workers' Organisation is (unsurprisingly!) a not-for-profit organisation. We have no so-called "professional revolutionaries", nor paid officials. Our sole funding comes from the subscriptions and donations of members and supporters. Anyone wishing to donate (to "Prometheus Publications") can now do so safely using the Paypal button below.
Subscriptions to Revolutionary Perspectives (3 issues) and Aurora (at least 4 issues) are:
UK £15 (€18)
Europe £20 (€24)
World £25 (€30, $30)
Take out a supporter's sub by adding £10 (€12) to each sum. This will give you priority mailings of Aurora and other free pamphlets as they are produced.
Publications. CWO publications are not copy-righted and we only ask that those who reproduce them acknowledge the original source on our website www.leftcom.org. Purchasing any of the publications listed on this site or in our various documents can be done in several ways:
By emailing us at uk@leftcom.org and asking for our banking details
By writing a cheque to the "CWO" and sending it to BM CWO, London WC1N 3XX
By donating the cost of the publications required via Paypal using the "Donate" button
The book "Bordiga Beyond the Myth" by Onorato Damen can also be ordered via Amazon
Recent publications
Aurora is the broadsheet of the ICT for the interventions amongst the working class. It is published and distributed in several countries and languages. So far it has been distributed in UK, France, Italy, Canada, USA, Colombia.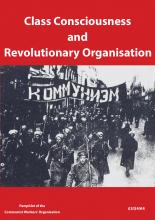 Introduction
Idealism and Bourgeois Materialism
How Working Class Consciousness Develops
Marx, Engels and Proletarian Organisation
The Era of Social Democracy and the Fight Against Revisionism
On the Eve of Revolution: the Debate Between Luxemburg and Lenin
Class Consciousness and Working Class Political Organisations
Party and Class in the Revolutionary Wave 1917-1921
The Decline of the Russian Revolution and the Cult of the Party
The Idealism of Bordigism
By Way of Conclusion: Towards Proletarian World Revolution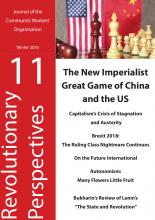 Journal of the Communist Workers' Organisation -- Why not subscribe to get the articles whilst they are still current and help the struggle for a society free from exploitation, war and misery? Joint subscriptions to Revolutionary Perspectives (3 issues) and Aurora (our agitational bulletin - 4 issues) are £15 in the UK, €24 in Europe and $30 in the rest of the World.
Links

This work is licensed under a Creative Commons Attribution 3.0 Unported License.