Greece: The Shape of Things to Come
The Cuts
Although hardly reported in our media Greek workers are resisting the austerity which the Greek and European ruling class has planned for them. This is the same ruling class which hid from the world the fact that the Greek budget deficit has been 4 times higher than publicly admitted. Greece's public debt stands at almost twice that of the UK's as a % of GDP. Successive governments have been able to hide it thanks to some accountancy tricks advised by the crooks at Goldman Sachs. But this has been the trigger for the rapid collapse of the Greek economy. It has created a situation which the world working class will eventually have to face.
In order to pay off the global banking bailouts the working class will be made to pay. In Greece they are already fighting back They have a lot to fight for. On 3 March Papandreou, the "Socialist" Prime Minister bowed to more pressure from the EU and announced further austerity measures on top of the freeze on pensions (70% of Greek pensioners exist on less than €600 a month) and cuts in public sector pay.
The new cuts amount to €4.8 billion and include the following:
A 2% increase in value added tax, which is now at 19%
A further increase in fuel tax
Increase of 20% in alcohol taxes
A 6% increase on cigarette taxes
A new tax on luxury goods
A 12% cut in add-ons to civil servant wages
A 30% reduction in bonuses given to civil servants on holiday pay, which was worth two additional month's wages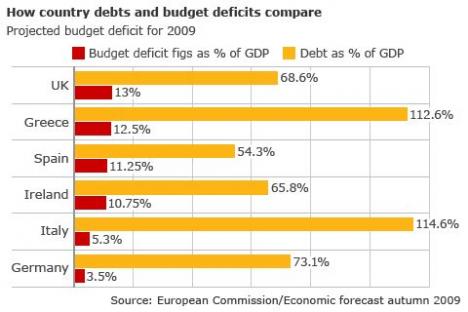 The Resistance
Instead of waiting for elections to replace one set of capitalist gangsters by another they have gone on strike and taken to the streets. One day after the new cuts were announced workers occupied the Finance Ministry. There have been three general strikes since 10 Feb with more than 150,000 demonstrating in Athens on 11 March alone. There were no planes, buses, boats, trams, or metros running, except for a special service which let people join the demonstration. Hospitals ran emergency services only and all other public services, including the police joined the strikes.
Similar marches took place across Greece. At Volos, union bosses were heckled and forced to leave the demonstration. Panagopoulos, the head of the public sector workers union, had to do the same after he was physically attacked at a rally last December (he was rescued by the Presidential Guard!). In both cases the workers have been quick to spot any attempt by union leaders to sell out to Papandreou's Socialist Government.
The huge general strike on 11 March was not the end of the mass struggle. A fortnight later, lawyers, doctors, and train drivers were all on strike, while Athens saw separate demonstrations by court officials, firemen, pensioners, and civil servants.
There were also mass protests against austerity in other Greek cities including Salonica, Volos, Heraklion and Ioannina.
The Future?
With similar austerity measures planned throughout the capitalist world the Greek situation is a foretaste of wider struggles ahead. As yet Greek workers have only sporadically organised themselves independently of the capitalist state.
To finally defeat the attempt to make us pay for their crisis we will have form our own alternative organisations, elected by workers and controlled by them. We will have to recognise that this is a political struggle and that as long as capitalism exists these struggles will not go away …
Aurora is the broadsheet of the ICT for the interventions amongst the working class. It is published and distributed in several countries and languages. So far it has been distributed in UK, France, Italy, Canada, USA, Colombia.
In evidence
The Communist Workers' Organisation is (unsurprisingly!) a not-for-profit organisation. We have no so-called "professional revolutionaries", nor paid officials. Our sole funding comes from the subscriptions and donations of members and supporters. Anyone wishing to donate (to "Prometheus Publications") can now do so safely using the Paypal button below.
Subscriptions to Revolutionary Perspectives (3 issues) and Aurora (at least 4 issues) are:
UK £15 (€18)
Europe £20 (€24)
World £25 (€30, $30)
Take out a supporter's sub by adding £10 (€12) to each sum. This will give you priority mailings of Aurora and other free pamphlets as they are produced.
Publications. CWO publications are not copy-righted and we only ask that those who reproduce them acknowledge the original source on our website www.leftcom.org. Purchasing any of the publications listed on this site or in our various documents can be done in several ways:
By emailing us at uk@leftcom.org and asking for our banking details
By writing a cheque to the "CWO" and sending it to BM CWO, London WC1N 3XX
By donating the cost of the publications required via Paypal using the "Donate" button
The books "Bordiga Beyond the Myth" and "Gramsci between Marxism and Idealism" by Onorato Damen can also be ordered via Amazon

This work is licensed under a Creative Commons Attribution 3.0 Unported License.