Iran: The Day They Flogged "God"
In December 2014, in protest against the sacking of 350 seasonal workers, a large gathering of laid off workers took place in front of the guards house of the "Agh Darreh" gold mine, Iran's second-largest, with more than 30 tons of proven reserves and one of the biggest gold mines in the Middle East. The depth of heartfelt pain and disgust was so strong that three of the sacked workers attempted to commit suicide in protest at the loss of their jobs on the mine site but survived after being hospitalised, according to the semi-official Iranian Labour News Agency ILNA. (1)
The Pooya Zargan company which operates the Aghdarreh gold mine, (it is said that most of the shareholders of this company are members of the Revolutionary Guard) filed a case against 17 of the workers, who were summoned to court in Tekab city in West Azerbaijan province. The allegations consisted of "preventing people from doing business by disturbing the peace", "insulting the mine's security guard", "destruction of a guard's clothing and illegally detaining him" and "deliberate destruction of the mine's signboard", respectively.
The News Agency (ILNA) reported: "These workers were sentenced to imprisonment and were also to pay fines and endure lashes. However, with the announcement of the withdrawal of the complaint and taking the opportunity of the judicial authority's pardon, the punishment of imprisonment for all workers was to be cancelled while the punishments of fines and lashes were to be carried out on any of the single defendants."(2)
According to their lawyer, Vahid Yarifor, the workers were sentenced to between 30 and 100 lashes and fined 164 dollars, based on two separate court rulings, and these were all implemented in the last days of May.
Carcinogenic sheep's milk, contaminated water, there is not much to do in here. Many are unemployed. There is not even a job where we can just make ends meet. There is no land left to plough nor water or grazing left for farming (3).

One of the Agh Darreh workers who was flogged and who is now unemployed, speaking of grievances
Now, rumbling protests have started against this barbaric act. Users of social media have shown a lot of sympathy towards the workers. As always, different factions of the government have hypocritically identified themselves with this by way of resignations from this governor or that manager. With their usual shabby tactics, Reformists and Moderates are mainly blaming the hard-liners' faction for putting obstacles in the way of The Joint Comprehensive Plan of Action (JCPOA), the recent agreement between the West and Iran.
What a bitter story! Those who assumed power in 1979 in order to build a paradise in this world under the shadow of the divine commandments, with promises of "free electricity and water" and "bringing the oil money onto the table", now that they have won power and authority purely by benefiting from workers' labour, with absolute obscenity and brutality and in the full light of day, refer to the same divine commandments, not only to impose lay-offs and fines, but to flog workers just for protesting against losing their jobs.
How quickly have they forgotten that just a few months after the February uprising in 1979, on 1st May, when Ayatollah Khomeini, the founder of the Islamic Republic, at odds with the celebration of International Workers' Day, said in a radio message that "God is a worker" in order to confront communists, in their own words "not to provide any excuse or pretext for the communist and Marxist " Fear of independent class struggle haunted him so much that he went on with his nonsense to add: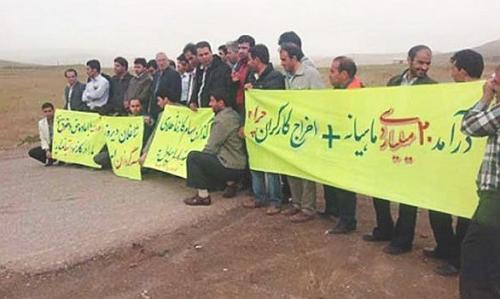 The banner held up by the workers says £4 million a month in profit and they are sacking workers. Why?
Work resembles the manifestation of God Almighty which permeates all creatures. God Almighty is the origin of labour and is a worker. There is work in all creatures and they were made through work. All particles of existence are workers, even the particles of an atom which exist in the world of nature are workers and with awareness, all particles of the universe are active but we assume they are not aware (4).
He added more by saying that all God's messengers have been working men:
Prophets came with empty hands but managed big things. Who was Prophet Mohammad? Well, a shepherd, in Mecca, ... ... Jesus too, Prophet Moses was a shepherd also, Abraham was the same ...
The second person of Islam, peace be upon him, is Ali ibn Abi Talb. He was a worker, meaning, he would dig a canal to reach water ... (5)
Of course this is not the first time that the capitalist Islamic regime's floggings have fallen on workers and without a doubt it will not be the last one, but all these are now taking place when day in day out, we have to put up with deafening propaganda about the victory of "moderation" and "prudence" against "extremism" and "terrorism" from the regime, its international allies, reformists and newly-become democrats of ex-lefties ... Of course, for these gentlemen, capital's servants, flogging someone for simply protesting against losing their job, probably is not extremism or terrorism.
Ever since the days when these gentlemen were asking workers to rush to the front to defend the motherland, to Rafsanjani's post-war reconstruction era when workers were told to say nothing but work hard, to Khatami's reformist era when workers were told to listen to his nonsense of Dialogue Among Civilisations and just wait for Ahmadinejad, the era of demagogy when, despite the biggest oil income in Iranian history, workers' share was unpaid wages, and right up to today ­– with the promise of doors being opened by the so-called "moderation" and "prudence" keys of president Rohani, ... what has not changed and will not change so long as capital rules is the exploitation, torture, and floggings of workers.
Comrades Workers!
No kind of appeals to so-called legal and international institutions, no kind of literature, poetry, drama, or fervent speeches ... will plaster over the scars of flogging. The day they called God a worker was simply because the spectre of an uprising of the workers and toilers had cast a shadow over their heads. They have had experience of how workers' power brought down the Shah's regime, they vividly witnessed workers' determination and power on the streets. Now they are able to clamp down on any protest with such brutality solely because, by using religion with nationalism, they have managed to divide us into Sunni and Shia, into Persians, Arabs, Turks .... By thousands of means of deception they have managed to convince us to take part in the electoral farce and penetrate our ranks. They have been able to channel our demands into reformism. They have created a governmental safety valve for themselves in the shape of reformists and moderates ... just to create confusion for us.
Communist Militants!
The only real response to the brutality of the regime of capital, is to once again raise the flag of class struggle. This is not just an ideal aim, it is the only practical option open to the working class, the rest is just illusion. The formation of new political vanguards who are starting to settle accounts with the counter-revolutionary role of the reformist organisations and in the process expose the limitations of demand struggles is the first priority and the immediate step towards ending these kind of acts of barbarism .... the day when the "God" of capital will be flogged by the workers.
Damoon Saadati
Start here...
The Communist Workers' Organisation is (unsurprisingly!) a not-for-profit organisation. We have no so-called "professional revolutionaries", nor paid officials. Our sole funding comes from the subscriptions and donations of members and supporters. Anyone wishing to donate (to "Prometheus Publications") can now do so safely using the Paypal button below.
Subscriptions to Revolutionary Perspectives (3 issues) and Aurora (at least 4 issues) are:
UK £15 (€18)
Europe £20 (€24)
World £25 (€30, $30)
Take out a supporter's sub by adding £10 (€12) to each sum. This will give you priority mailings of Aurora and other free pamphlets as they are produced.
Publications. CWO publications are not copy-righted and we only ask that those who reproduce them acknowledge the original source on our website www.leftcom.org. Purchasing any of the publications listed on this site or in our various documents can be done in several ways:
By emailing us at uk@leftcom.org and asking for our banking details
By writing a cheque to the "CWO" and sending it to BM CWO, London WC1N 3XX
By donating the cost of the publications required via Paypal using the "Donate" button
The books "Bordiga Beyond the Myth" and "Gramsci between Marxism and Idealism" by Onorato Damen can also be ordered via Amazon
ICT sections

This work is licensed under a Creative Commons Attribution 3.0 Unported License.